Piatti: Complete Cello Sonatas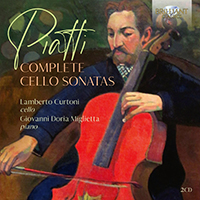 Download booklet
Composer
Alfredo Piatti
Artist
Lamberto Curtoni cello
Giovanni Doria Miglietta piano
Format
2 CD
Cat. number
96299
EAN code
5028421962993
Release
May 2022
About this release
A capacious library of Baroque-era works bears the name of the Italian cellist Alfredo Piatti (1822-1901) as an assiduous and pioneering editor, arranger and promoter of music for his instrument. Much less familiar are Piatti's own original pieces. This is the first modern recording and the only available collection on record of all six sonatas by a man hailed by Liszt as 'the Paganini of the cello'.

Ever true to his word and generous, Liszt presented Piatti with a replacement instrument after the Italian had been forced to sell his cello, having fallen into reduced circumstances. Piatti played with him in concert, as he did with Joseph Joachim and many other luminaries of mid-19th-century Europe.Of all his own music, Piatti was apparently proudest of the sonatas. They were written over an eleven-year period begun in 1885, during the last part of Piatti's creative life, long established as a celebrity of musical life in Victorian London. He gave the first performances of each one at the series of Popular Concerts, and to huge acclaim. While many virtuosos have written for their own instruments, the cello sonatas of Piatti stand out for their artistic confidence, their balance of extroversion and well-wrought sensitivity to form.

All the Sonatas embody qualities associated with Piatti, especially in the handling of melody, which is distinctly operatic in its lyricism. The slow movements share the passion that Verdi put into the lead characters of his operas. In terms of construction they are also highly varied, while remaining true to the traditions of cantabile and display which underpin his Italian heritage.

Born in 1987 in Piacenza, the cellist Lamberto Curtoni introduces this new recording of Piatti's sonatas with an invaluable survey of the works within the context of their times and their place in the composer's career. Curtoni himself has worked with many distinguished living Italian composers and had his own music performed widely.

Alfredo Piatti (1822-1901) was the "Paganini of the Cello", as his admirer Franz Liszt called him, having given him a valuable Amati cello. Piatti was born in Bergamo. His talent was soon evident, and he became a famous cellist, traveling all over Europe, meeting influential artists like Mendelssohn, Joachim, Grieg, Clara Schumann and Liszt. In 1846 he settled in London where he was appointed First Cello in Her Majesty's Theatre and Covent Garden.
Piatti's cello sonatas are high quality works, of a great melodic invention and stunning and ground-breaking virtuosity. In his deep understanding and knowledge of the cello, Piatti always aimed to write meaningful music that went well beyond any superficial display of technical brilliance. Moreover, far from being simple supports for the cello, his piano scores have a musical personality of their own, undergoing developments that made them an integral part of the overall work.
Played with great intensity by two excellent Italian soloists, cellist and composer Lamberto Curtoni and pianist Giovanni Doria Miglietta.
Listening
Track list
Disk 1
Alfredo Piatti: Cello Sonata No. 1 in C Major, Op. 28: I. Allegro

Alfredo Piatti: Cello Sonata No. 1 in C Major, Op. 28: II. Andantino

Alfredo Piatti: Cello Sonata No. 1 in C Major, Op. 28: III. Presto

Alfredo Piatti: Cello Sonata No. 1 in C Major, Op. 28: IV. Agitato vivace

Alfredo Piatti: Cello Sonata No. 2 in D Major, Op. 29: I. Lento-Allegro spiritoso

Alfredo Piatti: Cello Sonata No. 2 in D Major, Op. 29: II. Adagio lento

Alfredo Piatti: Cello Sonata No. 2 in D Major, Op. 29: III. Allegretto moderato variazioni del 1 tempo

Alfredo Piatti: Cello Sonata No. 2 in D Major, Op. 29: IV. Presto ma non troppo

Alfredo Piatti: Sonata No. 3 in F Major, Op. 30: I. Allegro energico

Alfredo Piatti: Sonata No. 3 in F Major, Op. 30: II. Romanza

Alfredo Piatti: Sonata No. 3 in F Major, Op. 30: III. Finale- allegro ma non troppo
Disk 2
Alfredo Piatti: Sonata No. 4 in G Major, Op. 31 "Idillica": I. Allegro assai moderato

Alfredo Piatti: Sonata No. 4 in G Major, Op. 31 "Idillica": II. Intermezzo-Vivo ed agitato

Alfredo Piatti: Sonata No. 4 in G Major, Op. 31 "Idillica": III. Allegro ma tranquillo

Alfredo Piatti: Sonata No. 5 in A Minor, Op. 32: I. Introduzione largo- allegro

Alfredo Piatti: Sonata No. 5 in A Minor, Op. 32: II. Intermezzo-Adagio

Alfredo Piatti: Sonata No. 5 in A Minor, Op. 32: III. Allegro vivo

Alfredo Piatti: Sonata No. 6 in E Minor, Op. 33: I. Allegro non troppo

Alfredo Piatti: Sonata No. 6 in E Minor, Op. 33: II. Andante religioso

Alfredo Piatti: Sonata No. 6 in E Minor, Op. 33: III. Canone

Alfredo Piatti: Sonata No. 6 in E Minor, Op. 33: IV. Vivo