Italian Contemporary Music for Harpsichord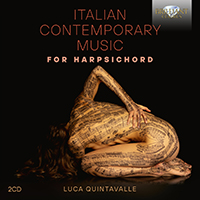 Download booklet
| | |
| --- | --- |
| Composer | Carlo Galante, Ennio Morricone, Francesco Filidei |
| Artist | Luca Quintavalle harpsichord |
| Format | 2 CD |
| Cat. number | 96408 |
| EAN code | 5028421964089 |
| Release | November 2021 |
About this release
A banquet of first recordings, highly original works and composers little known outside their native Italy in a new recording by one of today's most adventurous harpsichordists.

The neoclassical composers of 20s Paris were among the first to revive the harpsichord as a 'modern' instrument, inspired by the stirrings of the 'early music' movement in the hands of musicians such as Nadia Boulanger and Wanda Landowska. However, the postwar modernists found little use for it and only in the last few decades, not least thanks to the skill and imagination of virtuosos such as Elisabeth Chojnacka, Mahan Esfahani and Luca Quintavalle, has the harpsichord become once more as viable and respectable an instrument for new music as it was in the days of d'Anglebert and Couperin.

Indeed the earliest pieces on this survey of modern Italian music for the harpsichord date back to 1988: Mordenti and Neumi by Ennio Morricone, doyen of film and specifically spaghetti Western composers but whose training was thoroughly Classical. Formed of two interlocking chromatic canons, Mordenti in particular deserves wider attention. Plenty of other works here make play with the history of the instrument as well as its sonorities, such as Rumbling Gears, a hyperkinetic toccata by Sylvia Colasanti, and a Ricercare by Fabio Vacchi.

Scarlatti is the inspiration for another piece of Vacchi's as well as an ornate elaboration of the same idiom by Jacopo Baboni Schilingi in Scarlet K141. The Petit Ordre by Carlo Galante explicitly returns to the world of Couperin but now tinged with modern Quando il passato era ancora presente by harmonies to evoke a lost world. There are several pieces from the last two years that inevitably reflect on the experience of solitude enforced by the pandemic, such as Short Stories by Vittorio Montalti and Leonardo Marino.

With a full introduction to all the works and composers on the album by Luca Quintavalle, the album makes an arresting introduction to the music of many composers otherwise hardly represented in the current catalogue, and a significant new volume in the library of harpsichord music.

This program presents a comprehensive overview of works by contemporary Italian composers played on the harpsichord, collected by Luca Quintavalle.
Included are pieces for harpsichord already composed but not yet recorded (Morricone, Fedele, Solbiati, Galante, Cacciatore and Marino), arrangements for harpsichord by the artist, with the consent of the composer (Vacchi, Francesconi, Filidei, Lanza, Solbiati, Gervasoni, Colasanti and Antonioni) and completely new pieces written for the artist (Vacchi, Colombo Taccani, Palumbo, Baboni Schilingi, Montalti, Capogrosso).
It is fascinating to witness the experiments of contemporary composers when writing for the harpsichord, this "ancient" instrument, nowadays mostly used for Renaissance/Baroque music, but proving to be an endless source of unheard-of sounds and timbres, affects and sonorities.
Luca Quintavalle is one of the most remarkable keyboard players of the moment. He has collaborated as a soloist with orchestras such as Concerto Köln, Les Talens Lyriques, Balthasar-Neumann-Ensemble, Cappella Gabetta, Il Canto d'Orfeo, Harmonie Universelle, Divino Sospiro, Il Pomo d'Oro, Capella Augustina, La Folia Barockorchester, Kölner Kammerorchester, Orchestre de la Suisse Romande and WDR Sinfonieorchester.
His first solo recording of Jean-Baptiste Barrière's and Bernard de Bury's harpsichord music by the label Brilliant Classics was chosen as "Recording of the month" from MusicWeb International and got really positive reviews ("a great deal of excellent playing by Luca Quintavalle; enjoyable listening, which may be unreservedly recommended." Early Music-Oxford Journal; "I don't expect this recording to be surpassed" American Record Guide. Recently he recorded the Piano Sonatas by Anton Eberl for Brilliant Classics, to great critical acclaim.
Listening
Track list
Disk 1
Francesco Filidei: Filastrocca

Ennio Morricone: Mordenti

Maurilio Cacciatore: Toccatina

Leonardo Marino: Quando il passato era ancora presente

Ennio Morricone: Neumi

Ivan Fedele: Suite francese: I. Preludio

Ivan Fedele: Suite francese: II. Aria

Ivan Fedele: Suite francese: III. Toccata

Carlo Galante: Petit ordre: I. L'astrolabe

Carlo Galante: Petit ordre: II. L'africaine

Carlo Galante: Petit ordre: III. Air tendre

Carlo Galante: Petit ordre: IV. Ciel du nord

Alessandro Solbiati: Undici variazioni per Ruggero: I. Sereno, ritual

Alessandro Solbiati: Undici variazioni per Ruggero: II. Con slancio e ritmo

Alessandro Solbiati: Undici variazioni per Ruggero: III. Oscuro, meccanico

Alessandro Solbiati: Undici variazioni per Ruggero: IV. Grandioso

Alessandro Solbiati: Undici variazioni per Ruggero: V. Incalzante

Alessandro Solbiati: Undici variazioni per Ruggero: VI. Danza

Alessandro Solbiati: Undici variazioni per Ruggero: VII. Fluido

Alessandro Solbiati: Undici variazioni per Ruggero: VIII. Lontano

Alessandro Solbiati: Undici variazioni per Ruggero: IX. Presto

Alessandro Solbiati: Undici variazioni per Ruggero: X. Dolce

Alessandro Solbiati: Undici variazioni per Ruggero: XI. 6 variazioni sul Ruggiero

Luca Francesconi: Mambo
Disk 2
Silvia Colasanti: Rumbling gears

Fabio Vacchi: Ricercare per clavicembalo

Francesco Antonioni: Blues

Giorgio Colombo Taccani: Giannizzeri e gendarmi: I. Agitato

Giorgio Colombo Taccani: Giannizzeri e gendarmi: II. Ansioso, flessibile, non troppo lento

Giorgio Colombo Taccani: Giannizzeri e gendarmi: III. Austero

Giorgio Colombo Taccani: Giannizzeri e gendarmi: IV. Ostile, umorale

Giorgio Colombo Taccani: Giannizzeri e gendarmi: V. Ampio

Giorgio Colombo Taccani: Giannizzeri e gendarmi: VI. Agile, elastic

Giorgio Colombo Taccani: Giannizzeri e gendarmi: VII. Sereno

Fabio Vacchi: 3 Post per Scarlatti: I. Sonata

Fabio Vacchi: 3 Post per Scarlatti: II. Notturno

Fabio Vacchi: 3 Post per Scarlatti: III. Presto volando

Mauro Lanza: Chop Suey

Vito Palumbo: Speaking

Fabio Massimo Capogrosso: Techno Scene

Vittorio Montalti: Short Stories for harpsichord and Electronics: I. —

Vittorio Montalti: Short Stories for harpsichord and Electronics: II. —

Vittorio Montalti: Short Stories for harpsichord and Electronics: III. —

Vittorio Montalti: Short Stories for harpsichord and Electronics: IV. —

Vittorio Montalti: Short Stories for harpsichord and Electronics: V. —

Stefano Gervasoni: Suite préliminaire: I. Pré ludique

Stefano Gervasoni: Suite préliminaire: II. Précieux

Stefano Gervasoni: Suite préliminaire: III. Prétérit

Stefano Gervasoni: Suite préliminaire: IV. Perniceux

Stefano Gervasoni: Suite préliminaire: V. Prétentieux

Stefano Gervasoni: Suite préliminaire: VI. Prémices

Stefano Gervasoni: Suite préliminaire: VII. Prédicatif

Jacopo Baboni Schilingi: Scarlet K141